April 13, 2020
Better Built NW March 2020 Newsletter
COVID-19 Update
Your health and well-being during this unprecedented time is a high priority for us. We are continually monitoring the situation and have compiled the following resources to help keep you informed. Please note that several regional events and BetterBuiltNW trainings have been postponed in response to COVID-19. Detailed information about those events is provided in the events section below.
Northwest state resources with regular updates on COVID-19 include:
The March 25 update from Washington from Governor Inslee regarding restrictions and exceptions for residential and commercial construction activities statewide can be found here.
All BetterBuiltNW staff are currently working regular hours remotely, so please continue to reach out as you normally would. BetterBuiltNW staff are especially interested hearing from you regarding impacts of COVID-19 on your business and the new construction market. Your feedback is important and will help us monitor the evolving situation and its potential impacts on BBNW regional above-code resources, industry partners, and the residential new construction supply chain. Please contact us with any feeback here.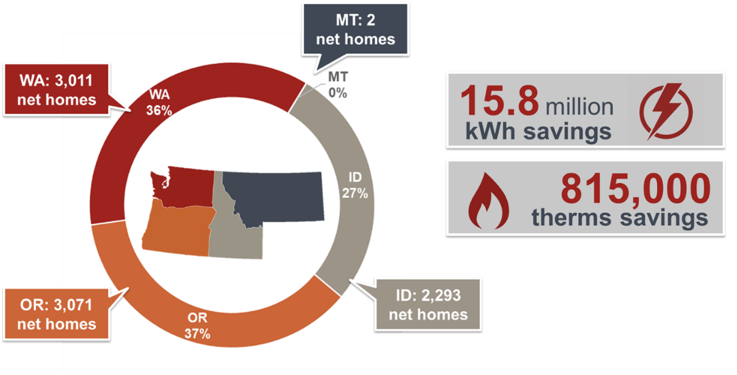 Northwest New Homes by The Numbers

Believe it or not, one quarter of 2020 has come and gone. We have tallied the numbers for 2019 and are excited to share with you the impact your participation and contributions have made. Together, we are driving the Northwest toward the most energy-efficient building practices in residential new construction.

The 2019 highlights of above-code energy efficient residential new construction include:
8,377 total homes were certified across the following programs:
12% of these certified homes participated in two or more programs.

Energy savings totaled 15.8 million kWh and 815,000 Therms. That's equivalent to:
Greenhouse gas emissions from 3,345 passenger vehicles driven for one year.
CO2 emissions from 1,974,581,395 smartphones charged.
From all of us at BetterBuiltNW, thank you for a great 2019! Our collective successes wouldn't be possible without you. While COVID-19 is presenting new challenges to the work we do in the near term, we look forward to harnessing our combined creativity to continue driving energy efficiency in 2020.

Learn more about the above-code homes certification programs in your area at www.betterbuiltnw.com.
New Website Look, Same Great Content
Browse the newly formatted BetterBuiltNW website for a more streamlined experience. Now is a great time to explore all of the useful resources provided on the website, including three of our top recommended resources:
It is now easier than ever to browse and filter resources, find a professional, and explore informative case studies.
Browse useful resources on the newly formatted BetterBuiltNW website.
Programs in the News

Every month BetterBuiltNW will highlight different programs in the news to keep builders and Raters/Verifiers informed on key updates, program changes, and highlights. This month's Programs in the News features an ENERGY STAR program update and information on the 45L tax credit extension.

ENERGY STAR Program Update:
ENERGY STAR will begin using ANSI/ACCA/RESNET Standard 310 for grading the installation of HVAC systems on ENERGY STAR Certified Homes permitted on or after October 1, 2020. The grading consists of five tasks, including: design review, total duct leakage test, blower fan volumetric airflow test, blower fan watt draw test, and non-invasive evaluation of refrigerant charge.

This standard applies to unitary HVAC systems (heat pumps up to 65 kBtuh, air conditioners, furnaces up to 125 kBtuh) in detached one- and two-family dwellings, townhomes, and more.
Learn more about requirements and ENERGY STAR's new standard.
45L Tax Credit Extension:
Congress recently extended the 45L tax credit through December 31, 2020. The credit provides builders a $2,000 tax credit for building and selling energy efficient homes. No modifications were made to the original credit requirements or prerequisites.

Eligible homes must meet the following requirements:
Located in the U.S.
Have been substantially built while the tax credit has been effective
Meet additional energy saving requirements
Read more about the tax credit extension and requirements.
Call for Articles
BetterBuiltNW wants to hear from you! We invite you to submit article ideas for content relating to above-code building construction, energy efficiency, and best practices. If selected, your featured content will be displayed throughout the year in the monthly BetterBuiltNW newsletter and online. Articles will reach an audience of engaged Raters/Verifiers and builders.

We are currently accepting content on the following subjects:
Case studies
Above-code home building construction
Energy-efficient homes
Home certification program updates
Energy-efficient building practices
Those interested in becoming a guest contributor should submit article ideas to info@betterbuiltnw.com. Be sure to include a title and brief abstract for the article and our team will be in touch.
Have a story you're ready to tell? Email your story idea to info@betterbuiltnw.com.
Events
BuildRight 2020: Expanding Sustainable Designs
April 22-23, 2020 – Portland, OR | POSTPONED
UPDATE: The BuildRight Conference scheduled for April 22 & 23 has been postponed in accordance with the CDC and Governor Kate Brown's event guidelines. The BuildRight team is busy identifying a new event date for this fall which will be announced very soon. Current registrations will automatically be applied to the new date.

BuildRight is a two-day conference hosted in Portland that brings together professionals all across the high performance and remodeling industries to gain insight on current market trends, legislative issues, and business practices. Attendees will learn to utilize new technologies, strategies, and business development innovations.

Click here to register for the conference.

Virtual National Home Performance Conference
April 27-30, 2020 – Online | VIRTUAL

UPDATE: In light of the CDC recommendation to cancel large scale gatherings of 50 or more, the Building Performance Association's 2020 National Home Performance Conference & Trade Show is now a virtual conference. Registration will be offered at a rate of $450 for members and $550 for nonmembers. If you've already registered for the in-person conference, BPA can easily transfer those funds to the virtual conference by making that request and filling out this form. Regular registration for the Virtual Conference will open soon.

The 2020 National Home Performance Conference is taking place virtually on April 27-30. It is the largest meeting of home performance and weatherization professionals in the country. Hear from our very own Jon Belmont and Dan Wildenhaus at the event.

Click here to learn more about the virtual conference.
How to Cost Effectively Build Zero Energy Homes
UPDATE: Out of an abundance of caution, respect for vulnerable populations and CDC social distancing protocols in response to COVID-19, these trainings have been postponed. Stay tuned for more information. To receive updates regarding this and other trainings please fill out this interest form.

Join EEBA (Energy & Environmental Building Alliance) and Earth Advantage for a one-day training to learn how to eliminate common barriers to Zero Energy (ZE) home construction, benefit from the rapid trend toward ZE, and earn a 'Zero Energy Builder' designation. Take advantage of numerous dates and locations for the training.

Click here to learn more about the trainings.