September 23, 2021
BetterBuiltNW Announces Three New Training Catalogs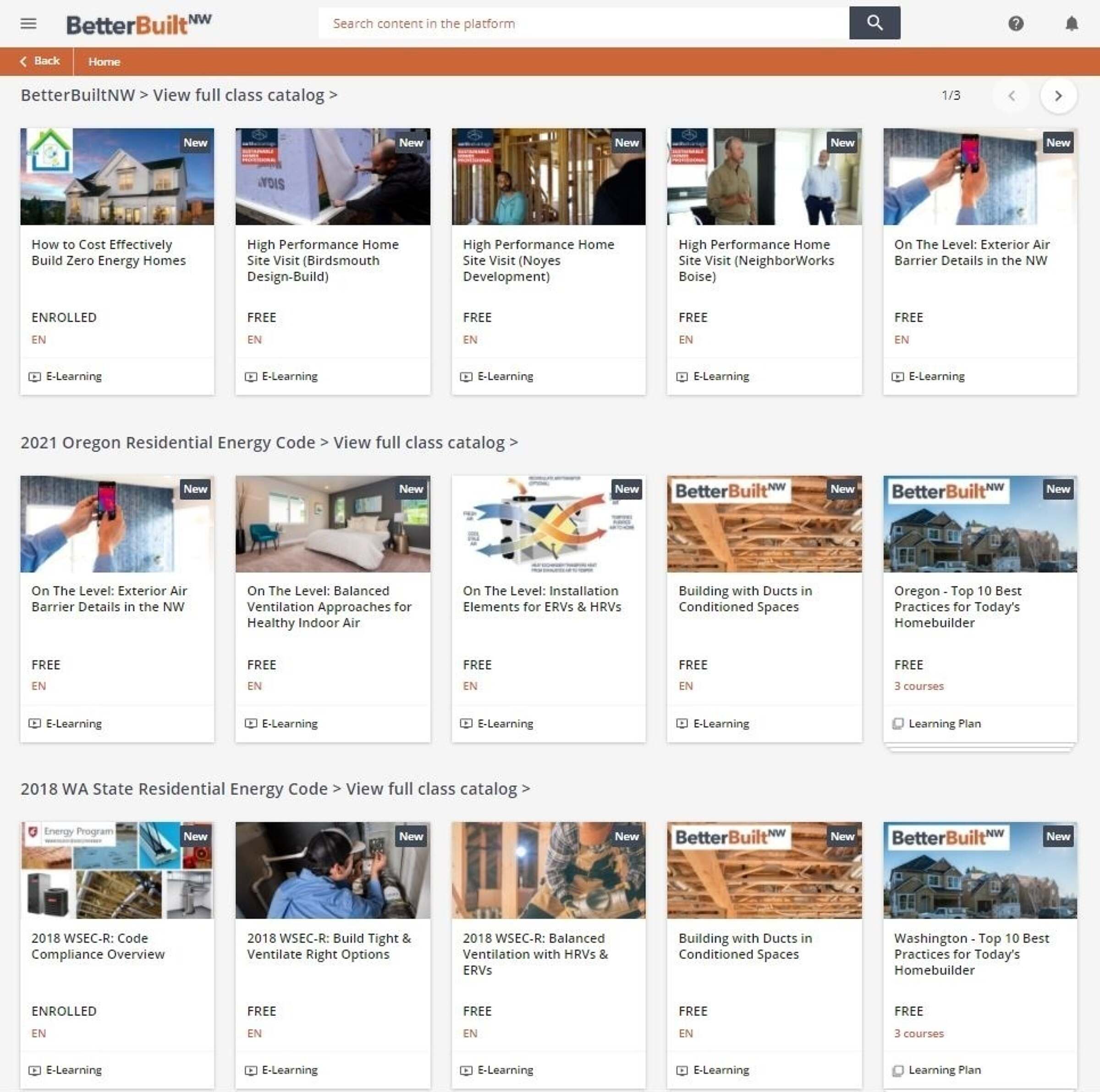 BetterBuiltNW offers online trainings across a wide spectrum of building science topic areas and energy performance levels—available anytime and at your own pace. Click here to register, or click here to sign in to your existing account.
BetterBuiltNW recently released three new training catalogs focused on general above code building, Washington State's 2018 residential energy code, and Oregon's 2021 residential energy code. To access the catalogs, please visit Training.betterbuiltnw.com/learn.
BetterBuiltNW Course Catalog
This category includes training on high performance building best practices, in-field site visits, zero energy construction, ducts inside conditioned spaces, and deep dives on air barriers and ventilation.
2018 Washington State Energy Code-Residential (2018 WSEC-R) Course Catalog
BetterBuiltNW has developed these trainings that help explain the 2018 WSEC-R, including best practices for meeting code, building tight and ventilating right, installing heat and energy recovery ventilators (HRVs/ERVs), and others.
For additional videos on how to plug ventilation systems into the compliance calculator and compliance certificate, plus a complete list of all WSEC-R trainings, visit WSU's Energy Code Training page (http://www.energy.wsu.edu/EventsTrainings.aspx).
2021 Oregon Residential Energy Code Course Catalog
BetterBuiltNW offers these trainings that help explain Oregon's 2021 Residential Energy Code. Training offerings include best practices customized for the Oregon homebuilder, building to maximize IAQ, incorporating ducts inside conditioned spaces, and installation elements for heat and energy recovery ventilators.