February 23, 2023
Selling the Benefits of High Performance Homes
In today's market, there are myriad reasons why new home builders should effectively market the energy efficiency benefits of a home to consumers. The housing market shows signs of slowing down, and today's homebuyers are better informed and more conscious about evaluating quality, comfort, costs, and health when searching for a home than in previous years.
Did you know:
81% of potential homebuyers say higher energy efficiency would influence them to pick one new home over another.
83% of builders and remodelers believe that consumers will pay more for healthier homes.
Meanwhile:
For those who sell homes, this identifies a gap that needs to be bridged when communicating the energy efficiency and health benefits of high-performance homes. This gap is likely due to a lack of understanding that energy efficient and healthy homes are often two sides of the same coin. Oftentimes, the same features that save energy also create healthier indoor environments. By marketing these qualities of a home, sellers can tap into buyers' attention to their healthy lifestyle and wellbeing, and address concerns about indoor air quality, long-term safety, and financial benefits.
Many sellers focus on promoting the energy efficient or "green" features of the property, when they should be communicating the benefits. While the features themselves can be important selling points for some, they are not the most effective way to appeal to all buyers. Instead, sellers should focus on marketing a home's quality, comfort, health, energy savings, and durability benefits, which can have a significant impact on a buyers decision-making process that is often more realistically motivated by emotions and/or accessibility.
The following resources can help you and your team use effective tactics to communicate clearly with potential homebuyers:
The NAHB and NAR Home Performance Counts website provides a variety of helpful professional resources, including this quick reference list of terms: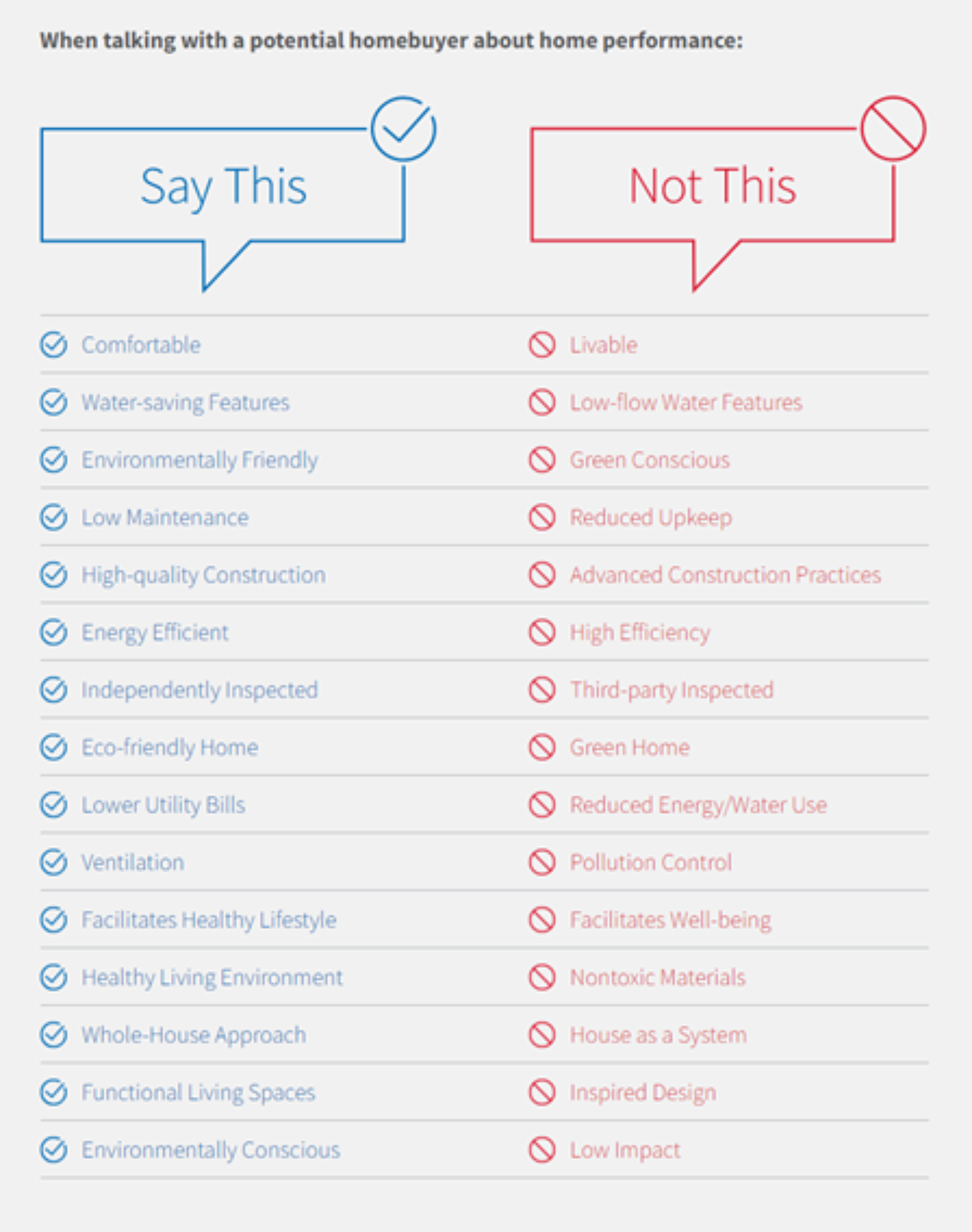 Earth Advantage provides a cheat sheet that includes recommendations on how to market the benefits of 30 different features commonly found in high-performance homes.

Earth Advantage's Selling Healthy Homes training video provides a helpful guide that focuses on marketing the indoor air quality and health benefits to clients.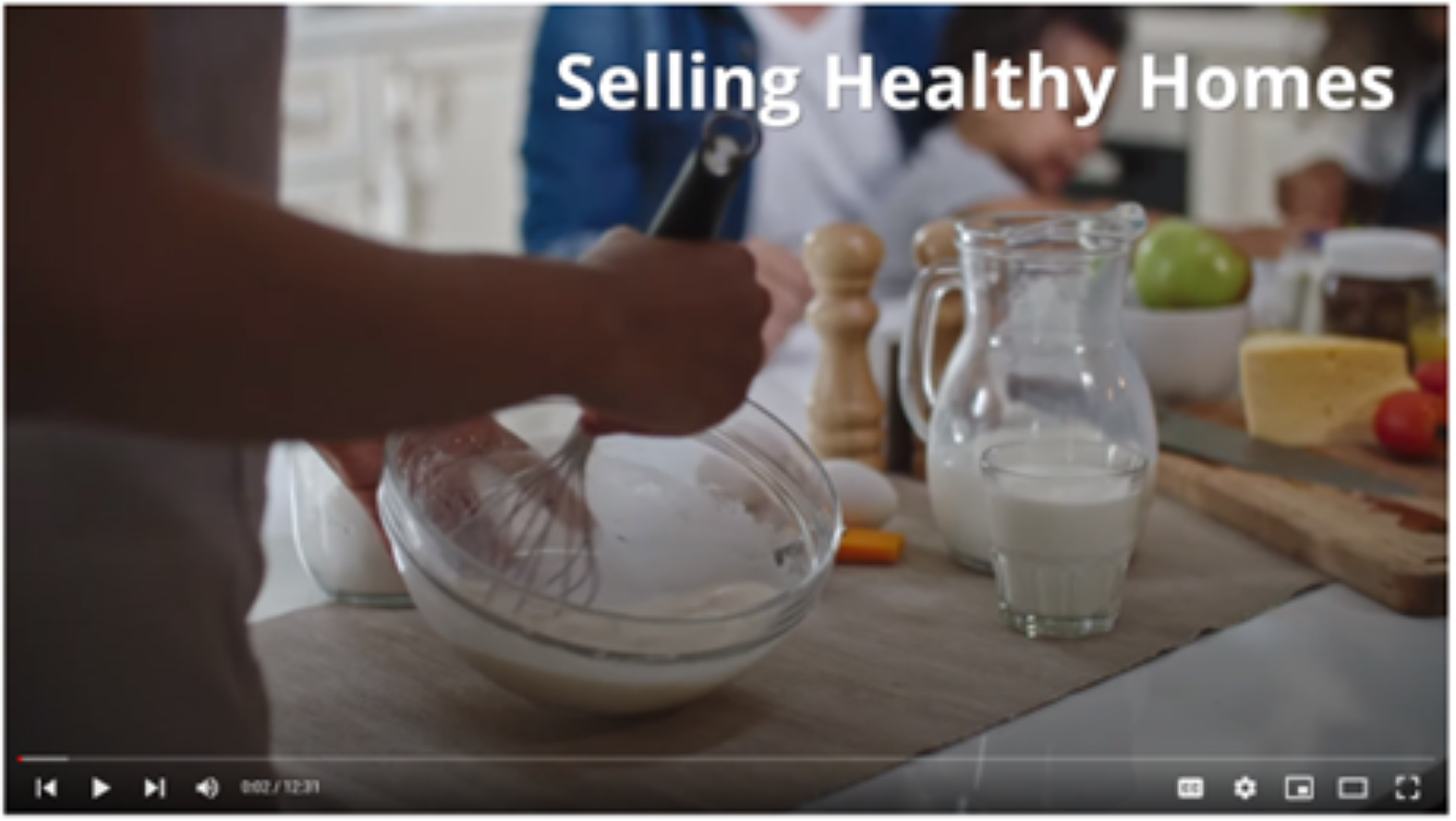 Earth Advantage's Selling Energy Efficient Homes trainings video is another helpful guide on how to maximize the value of a home by emphasizing energy efficiency.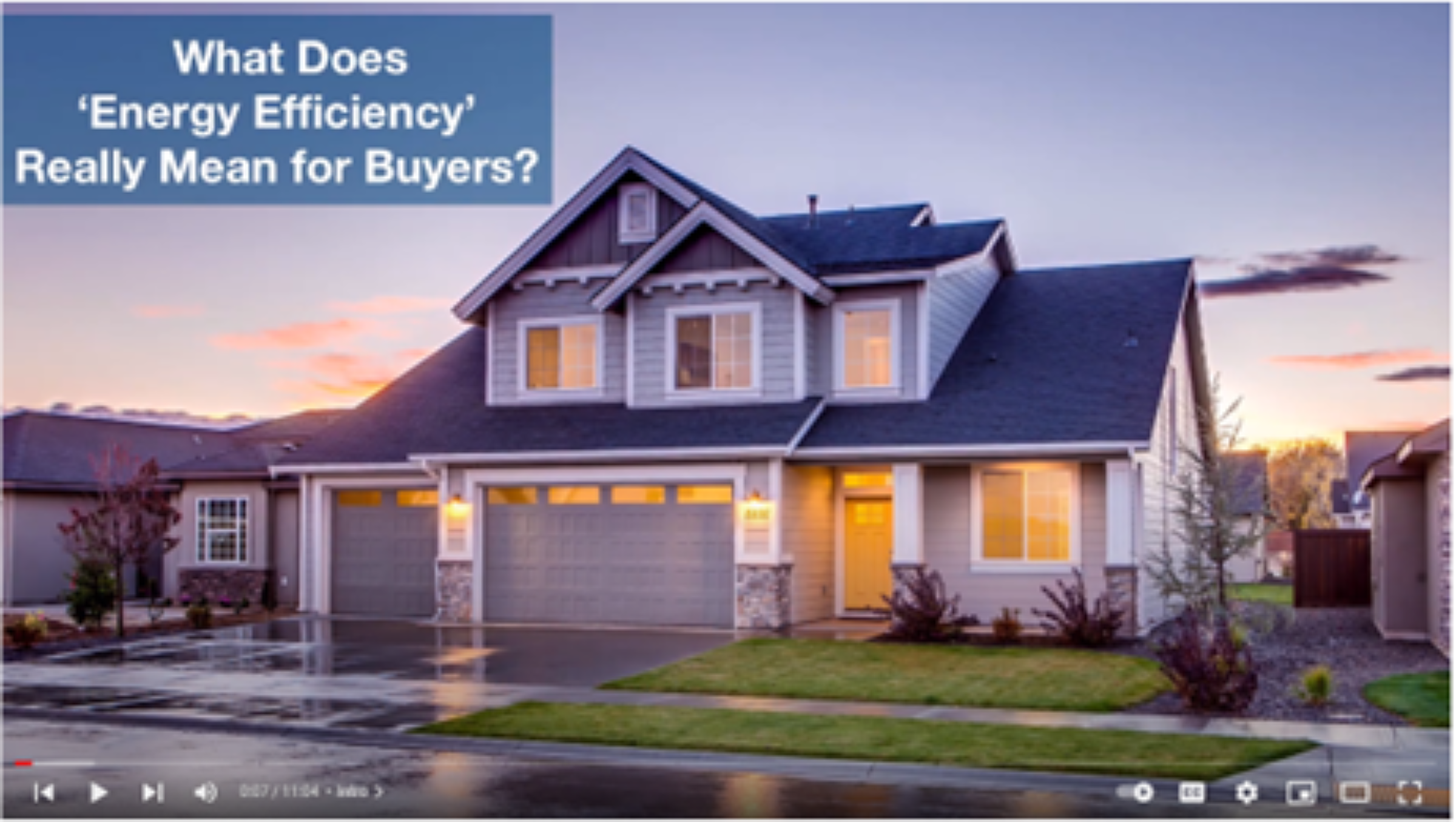 In addition, the Home Performance Counts website provides these excellent overall recommendations:
"Home performance is a new concept to many homebuyers and sellers. Often, clients know they want a healthy, comfortable, lower-maintenance home, but don't know how to articulate it. Be mindful not to overwhelm your client. When you discuss the high performance features of a home, be sure to highlight the benefits those features provide. And remember, the top influencers for purchasing decisions include a safe community, reputable neighborhood where homes hold resale value, energy-efficient features that lower utility bills, durable materials with low maintenance and a healthy indoor living environment. Finally, be sure to mention any third-party certifications you or the home have. These could include ratings like the Home Energy Score or HERS, certifications like ENERGY STAR® and more."

In today's market, high-performing homes are no longer a luxury—they are a necessity. Buyers want to work with builders who prioritize energy efficiency, which can be perceived as a sign of a high-quality build. By prioritizing these messages in your marketing efforts, you can help ensure the long-term success of your business in a housing market that continues to grow more competitive.
Do not miss out on the opportunity to differentiate yourself as a market leader and attract customers who are looking for energy-efficient homes. Adding these resources to your toolkit will help you prioritize energy efficiency in your marketing efforts and build a brand that resonates with modern buyers and drives business growth.
On-Demand Training Opportunities: