May 25, 2020
BetterBuilt NW May 2020 Newsletter
Tips for Building Healthy Homes
Health-related characteristics of homes, including indoor air quality, is rising in popularity among homeowners. Builders can differentiate their homes from others on the market by designing homes with indoor air quality in mind. HVAC School developed the Healthy Indoor Air CheckPoints graphic, featured above, as a resource for builders to ensure indoor air quality is integrated into their building design.
Key measures featured in the Healthy Indoor Air CheckPoints graphic include:
Vent clothes dryer, bath fans, and kitchen outside
Seal air ducts in attic
Balance room pressures and airflow with proper return and supply
Properly vent fireplaces and fuel-burning appliances
Outdoor air ventilation using ERV, HRV or ventilating dehumidifier as appropriate
Check out the HVAC School graphic for the full list of healthy indoor air checkpoints and visit HVAC School online for more building tips.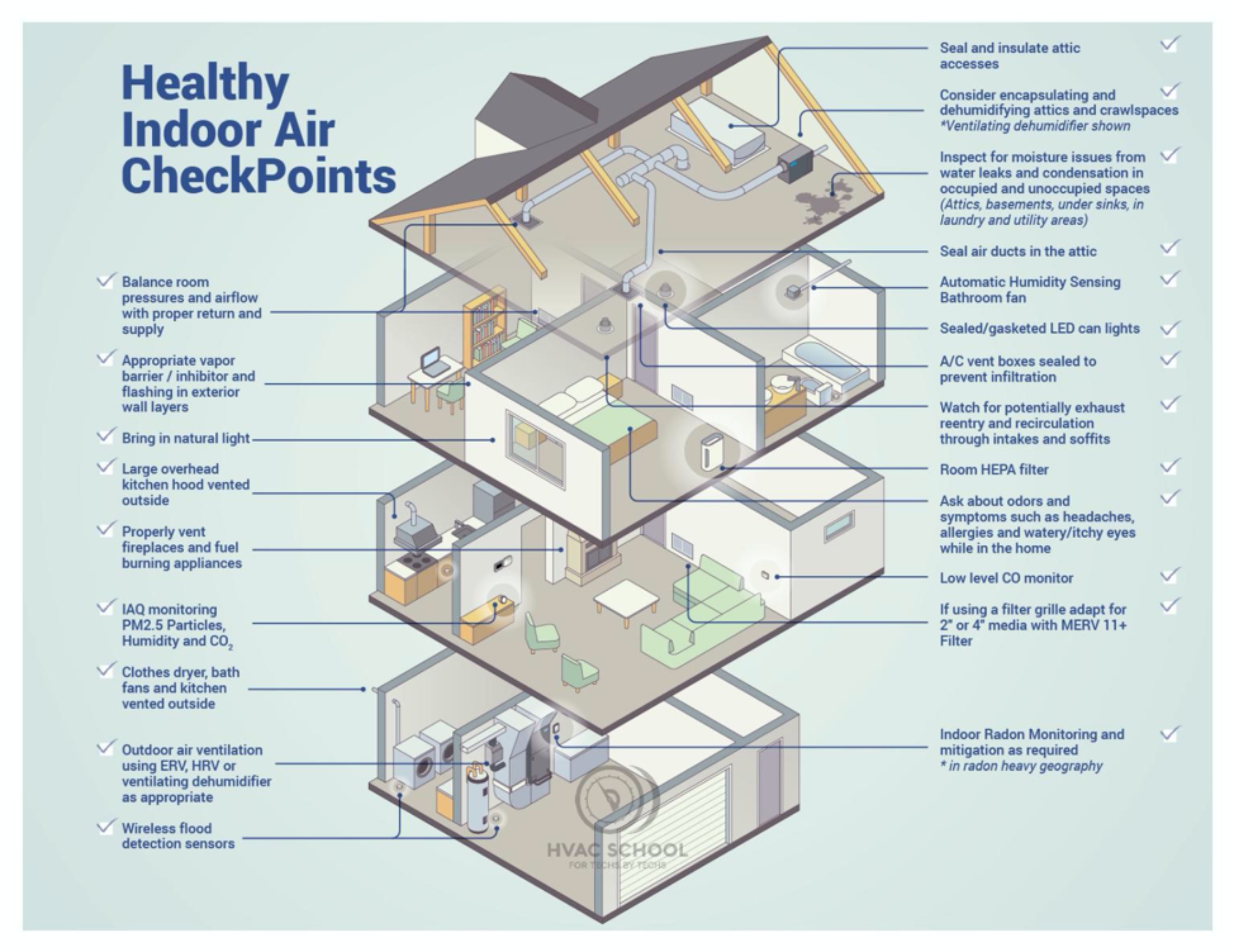 Every month BetterBuiltNW will highlight different programs in the news to keep builders and Raters/Verifiers informed about key updates, program changes, and highlights. This month's Programs in the News features an update from RESNET on a temporary emergency standard amendment and an update on National Green Building Standard certifications.
RESNET Temporary Emergency Standard Amendment
RESNET has adjusted requirements for performance-testing homes due to reduced access to work sites, and currently does not require certified RESNET HERS Raters and Rating Field Inspectors to go into the field to inspect homes. Furthermore, RESNET released Addendum 48i with guidance on alternatives to enclosures and required duct leakage field testing. The usage of default leakage values is not mandatory.
The addendum provides a table of default values to use for measuring the energy impact of building enclosure and air distribution system leakage. These values can be used to calculate ratings when in-person tests are not conducted. Values are broken down by climate zone and are determined by the metro-code area based on the past 120 days of performance.
Home Innovation Lab releases 2020 National Green Building Standard (NGBS)
The two-year ANSI-approved cycle for standard development has been completed and the 2020 Standard and corresponding certifications are now available. Single-family and townhomes may qualify for two NGBS Green Certification Paths—certified path or bronze, silver, gold, or emerald level certification. Home Innovation released guidelines for participants to determine which certification path is right for their home.
Review Addendum 48i to learn more about the temporary emergency amendment and read about 2020 NGBS certifications.
Events
How to Cost Effectively Build Zero Energy Homes
May 29, 12 p.m. to 2 p.m. | Virtual
Join EEBA and Earth Advantage for a webinar on affordable Zero Energy home design and construction.
Click here to register for the Mechanical Ventilation, Heating & Cooling, Water Heating, Lights & Appliances, Renewable Energy, Marketing/Sales webinar.
Top 10 Best Practices for Today's Homebuilder
New Online Training
Join BetterBuiltNW for three one-hour modules of on-demand online training and learn the latest and greatest techniques being used today to build energy efficient homes. These trainings are offered at no cost and you can earn continuing education units for attending one or more modules.
REGISTRATION
To access the online training, follow these steps:
Click "Register Today" to be directed to the BetterBuiltNW online training platform.
On the platform page, click 'New User? Register' to create a new account (if you already have an account, you can sign in without registering).
Once logged in, click 'Top 10 Best Practices for Today's Homebuilder'.
Register and watch the free online training modules.
Northwest Green Home Tour
TBD – September 2020 – Seattle, WA
Click here to stay up to date for details on the home tour rescheduled for September.
BuildRight 2020: Expanding Sustainable Designs
TBD – Fall 2020 – Portland, OR
Click here to stay up to date for details on the fall conference.