January 1 - December 31, 2021
Online Training: Top 10 Best Practices for Today's Homebuilder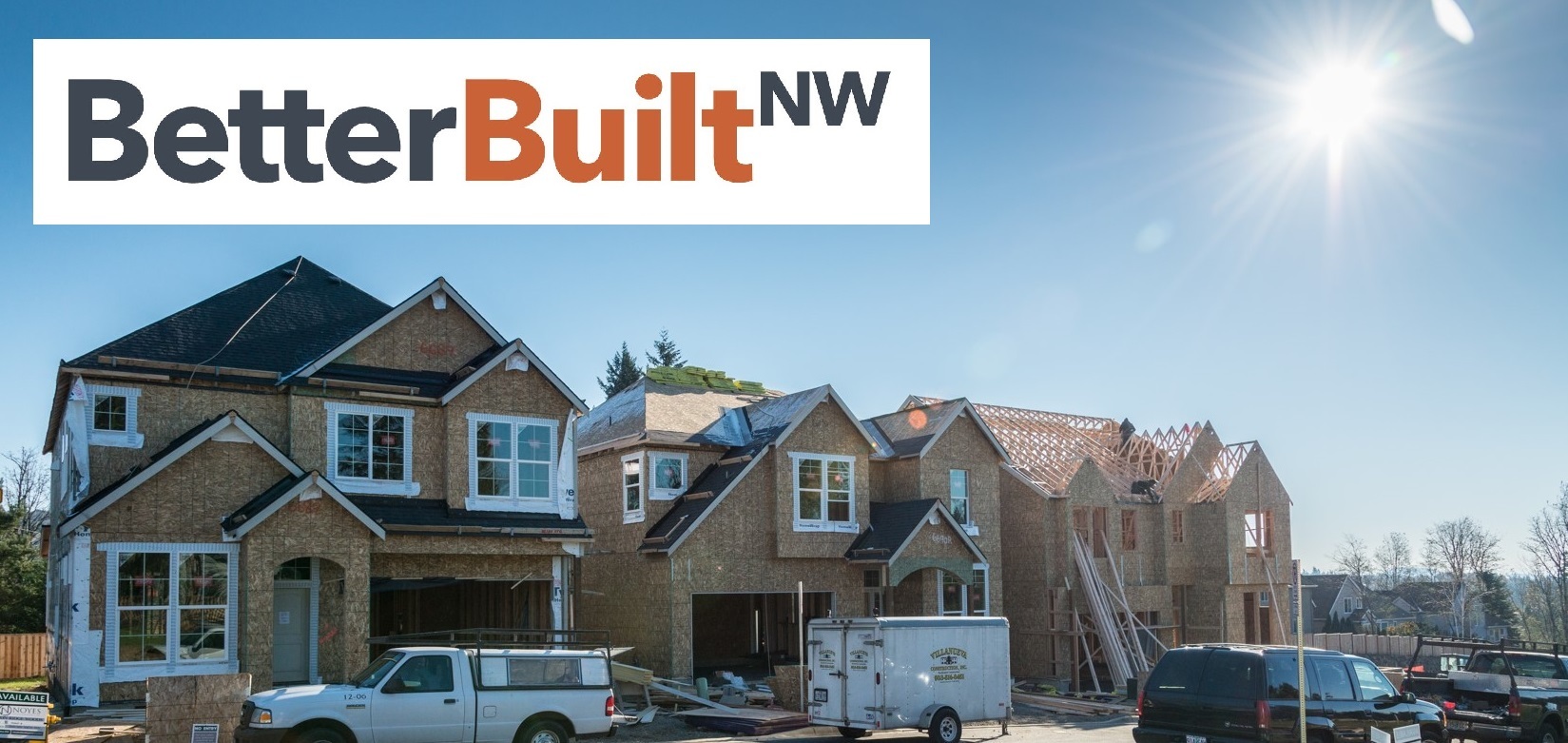 Join BetterBuiltNW for this 3-hour self-paced online training and learn the latest and greatest techniques being used today to build energy efficient homes.
Gain info that every builder must know to keep pace with building code changes and ahead of homebuyer expectations—and earn 3 CEs while you're at it!
This training covers our Top 10 "Good, Better & Best" approaches to quality home construction and shares practical insights from the job site. The topics presented will help you stay on top of your game and increase the energy efficiency, comfort and durability of the homes you're building:
Poor performing home scenarios
Housing market trends & code trajectory
Third party verification benefits
Building science basics
Top 10 approaches to high performance homes: Design, Super Air Sealing, High-R Walls, High-R Ceilings, Windows, Ducts & Distribution, Fresh Air Ventilation, Appliances & Lighting, Mechanical Systems, Solar PV
Local raters & utility/certification programs
Preview the complete list of Top 10 Good, Better, Best approaches >>
LEARNING OBJECTIVES
Attendees will learn about:
Common barriers to energy-efficient home construction
Building science fundamentals & moisture management
Ways to improve envelope design & performance
Advanced mechanical systems, lighting, & appliances
Home certification programs & energy-efficiency utility incentives
REGISTRATION
To access the online training, follow these steps:
Click "Register Today" to be directed to the BetterBuiltNW online training platform.
On the platform page, click 'New User? Register' to create a new account (if you already have an account, you can sign in without registering).
Once logged in, scroll down to 'Courses You Might be Interested In' and select 'Top 10 Best Practices for Today's Homebuilder'. Note there are four different versions available, one each for Oregon, Washington, Idaho and Montana.
FORMAT
Online training
This 3-hour, self-paced online training format consists of a series of 3-5 minute videos divided into sections. Users can start or stop their viewing at their own pace and easily resume the course at another time. Short quiz questions and activities will help you incorporate content covered in the videos.
Watch sample training videos on Fresh Air Ventilation and Superior Air Sealing below:
CONTINUING EDUCATION
AIA: 3 LU/HSW
OR CCB: 3 CEs
BPI: 1.5 units
ICC: 0.3 CEs
COURSE FEE
No cost (Regularly $75)
This training is brought to you by BetterBuiltNW
AUDIENCE
Building industry professionals (builders, raters/verifiers, architects, subcontractors, utility representatives, and code officials)
INSTRUCTOR: John Spillman
John is a Trainer and Senior Technical Consultant with Earth Advantage. He teaches classes to Energy Auditors, Builders, Architects/Designers, Real Estate Professionals and Building Code officials. John has been promoting sustainable building and energy efficiency in both new and existing residential construction with Earth Advantage since 2009. John's construction background is in residential remodeling. He is a LEED for Homes Quality Assurance Designee and Green Rater. John earned a Bachelor's degree in Civil Engineering from University of California, Davis.